Sep
3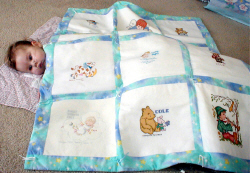 Creates handmade cross stitched quilts for children with Spinal Muscular Atrophy. This charity group was created in memory of Cole Daniel Webb (an angel on earth and now an angel in heaven)
If you would like to make a quilt for a child in need check out the "requests" page for a heart wrenching face to face picture of the ill child.
To find out how you can help, visit their volunteer page and check out the requirements to make sure you can quilt what they are after as there are set guidelines to follow.
By geri jones
You may also like...
Comments