Sep
11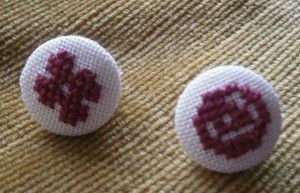 I love the look of cross-stitch covered buttons, but those button forms meant for fabric just frustrated the dickens out of me. When I found the button-covering tutorial at The World According to Agi, I was so excited. She shows how to use a regular button and cover it with a small cross-stitch motif! Sheer genius – why didn't I think of that?
Learn to cover a button with cross stitch. If you have a great cross-stitch tutorial, let us know about it in the comments below.
By Connie Barwick
You may also like...
Comments