Nov
28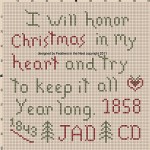 A beloved holiday tradition is "A Christmas Carol" by Charles Dickens and whether you like to read the original, watch the Mikey or Muppet version, or participate in the local stage version, this free chart will allow you to create your own stitched version of Scrooge's famous saying. Thanks to Feathers in the Nest blogger Jennifer Dalenberg for posting this free chart.
Be sure to visit her blog Feathers in the Nest for the full-size chart. (When I post about a free chart, you always want to visit the blog indicated for the full-size chart – the post here will be a thumbnail version at best. Here at Craft Gossip we always want to encourage you to visit the original post for more information about the free charts or tutorials we let you know about each day.)
You may also like...
Comments