Nov
21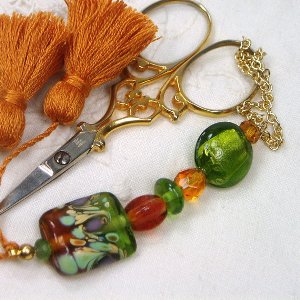 As you begin to think of stocking stuffers for stitchers, one great gift idea is scissor fobs. I LOVE them. Before I discovered them, I misplaced my scissors all the time. Now, I dress my scissors up with jewelry such as the Olivine and Amber Beaded Fob shown here and they are easy to keep up with.
One of my favorite sources for fobs, stitch markers, laying tools and other stitching gadgets is TJB Designs an Etsy shop filled with lovely designs hand-made by the owner, Tommye. Although I am partial to her red and black designs, she had loads of other color combos that are pleasing to the eye. I have also found that she's open to suggestions too!
You may also like...
Comments