Jan
18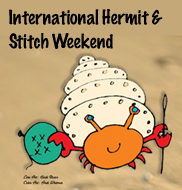 I found another blog sign-up I thought some of you might be interested in.
"International Hermit and Stitch Weekend takes place every 3rd weekend of each month. In our very busy and hectic lives, IHSW is a chance for us to squirrel some time away for ourselves and "Hermit and Stitch." It is a time set aside to take care of us and our love for stitching." Learn more about the rules and how to sign up.
You may also like...
Comments