Sep
4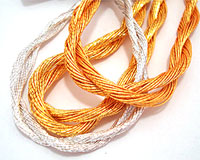 One of my friends messaged me on Facebook with a stitchery emergency last night looking for some silver thread – I told her several options were out there in the floss-o-sphere, but that one of my very favorites is Kreinik's Japan Thread.
In case you are not familiar with this product, Kreinik Japan Threads are synthetic, so they won't tarnish.  It looks like you are stitching with real metal.  You can either use them for stitching like any other floss or you can couch them down using other flosses or filaments.  Use silver or gold Japan Thread for embellishing wedding seed bags, blinging up ornaments, adding shimmer to needlepoint projects, or to shine up cross stitch samplers – or whatever else you can think of using them for.  And for all of my friends who were waiting for a Firefly reference, Kreinik Japan Threads are SHINY!
You may also like...
Comments