Nov
16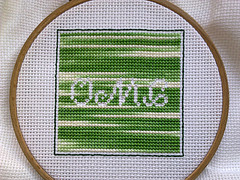 This is another project I found via Mr. X-Stitch albeit indirectly. I was perusing this post and I found NeedleworkRage's flickr feed and OMG I just fell in love with her OMG done in Assissi-style.
She's got a thing for "OMG" as you will see if you flip through her photo album. She also takes lots of photos of her WIPs which is awesome. Be warned, there's a tad bit of adult language in a few of the photos, so don't go exploring if you are easily offended (the f-bomb gets dropped a couple of times).
By Connie Barwick
You may also like...
Comments