Dec
4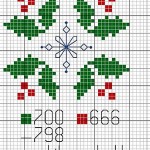 From Mamou's blog, this sweet little motif will make a great gift tag or tiny ornament. You could even make a little mini pillow and add ribbon and make a necklace with this free chart. So many options!
For the full-size chart visit Mamou's blog.
By Connie Barwick
You may also like...
Comments