Sep
6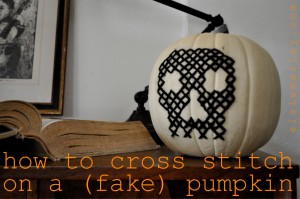 One of my BFFs, Marion of Mad Cat Art Studio pointed this link out to me and I immediately fell "in like" with the idea. 
Elsie Marley shared this last year, so if you missed out, be sure to check out How to Cross Stitch on a Pumpkin.  I had to put a Suthurn flair on the headline – if you want to imagine how I talk, think Larry the Cable guy only an octave higher.
I think this would work on real pumpkins, but in this case, it's a fake pumpkin.  I can't wait to try this on some tiny faux pumpkins I have around the house that were leftover from last years decoration.
I must also give Marion a shout-out for a certain crafty care package she sent my way – so much crafty goodness in the form of magazines from over-the-pond.  I wonder if people in the UK would be quite as excited if I sent them some Southern Living magazines? Maybe I should arrange a swap
By Connie Barwick
You may also like...
Comments