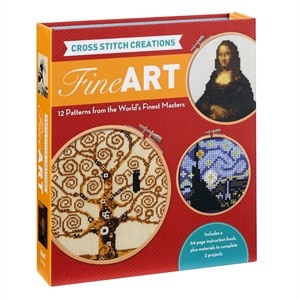 Cross Stitch Creations: Fine Art shows you how to recreate classic artwork from the masters in cross stitch.
Take your needle art to the next level and recreate some of the finest masterpieces in history.
From van Gogh to Klimt to Munch, the projects and artists found in Cross Stitch Creations: Fine Art represent a wide range of art movements in the painting world.
Cross Stitch Creations: Fine Art includes a 64-page instruction book that details how to create works originally painted by van Gogh, Klimt, Matisse, Hokusai, and many others:
Composition with Large Red Plane, Yellow, Black, Gray, and Blue by Piet Mondrian
The Swan (No. 16) by Hilma af Klint
Mona Lisa by Leonardo da Vinci
Color Study, Squares with Concentric Circles by Wassily Kandinsky
Curtain, Jug, and Fruit by Paul Cézanne
Sunflowers (Fourth Version) by Vincent van Gogh
Flowers in a Rococo Vase by Paul Cézanne
The Scream of Nature by Edvard Munch
The Starry Night by Vincent van Gogh
The Creation of Adam by Michelangelo
The Tree of Life by Gustav Klimt
The Great Wave off Kanagawa by Katsushika Hokusai
The kit also includes some materials for making some of the projects, but as you might imagine a lot of colors are involved in some of these projects so there aren't materials that could be used to make all of them.
Have you seen this book? I'd love to hear your thoughts!
About the book: 64 pages, 12 patterns, $21.99/£12.99, published by Quarto.